The Grand Opening on July 2nd, 2009: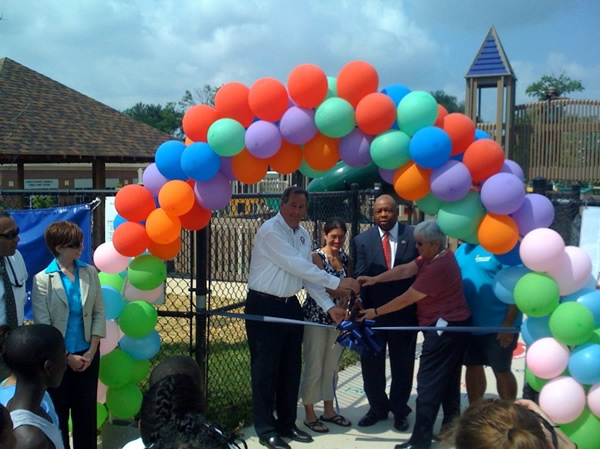 The Ceremonial Ribbon Cutting by (from left to right) John Hoey of the YMCA; Marisa Canino, President of the Friends of Our Playground at Stadium Place; Congressman Elijah Cummings; Delegate Maggie McIntosh and (behind Maggie) is District 4 City Councilman Bill Henry.
Prior to the ribbon cutting, at 10am, the representatives shared some inspiring thoughts and words with the eagerly awaiting crowd.
Everyone rushed in and played as they explored the newly rebuilt playground with great joy and excitement! Many who have been involved were visibly moved to tears watching the children play (including myself). The sounds were fabulous... the bells from the built-in xylophone dinging... ecstatic screams from the tire swing...
At 5:30 there was a Community Celebration which included African Drumming, popcorn, hula hooping, a puppet show and the world premiere of a short documentary film by Rob Hatch about the rebuilding of Our Playground.
Many agree that the rebuild is even better than before. The painting is beautiful, it is easier for parents to keep an eye on their children than before, and the rubber flooring is fantastic.
Come out and play and enjoy and see for yourself!